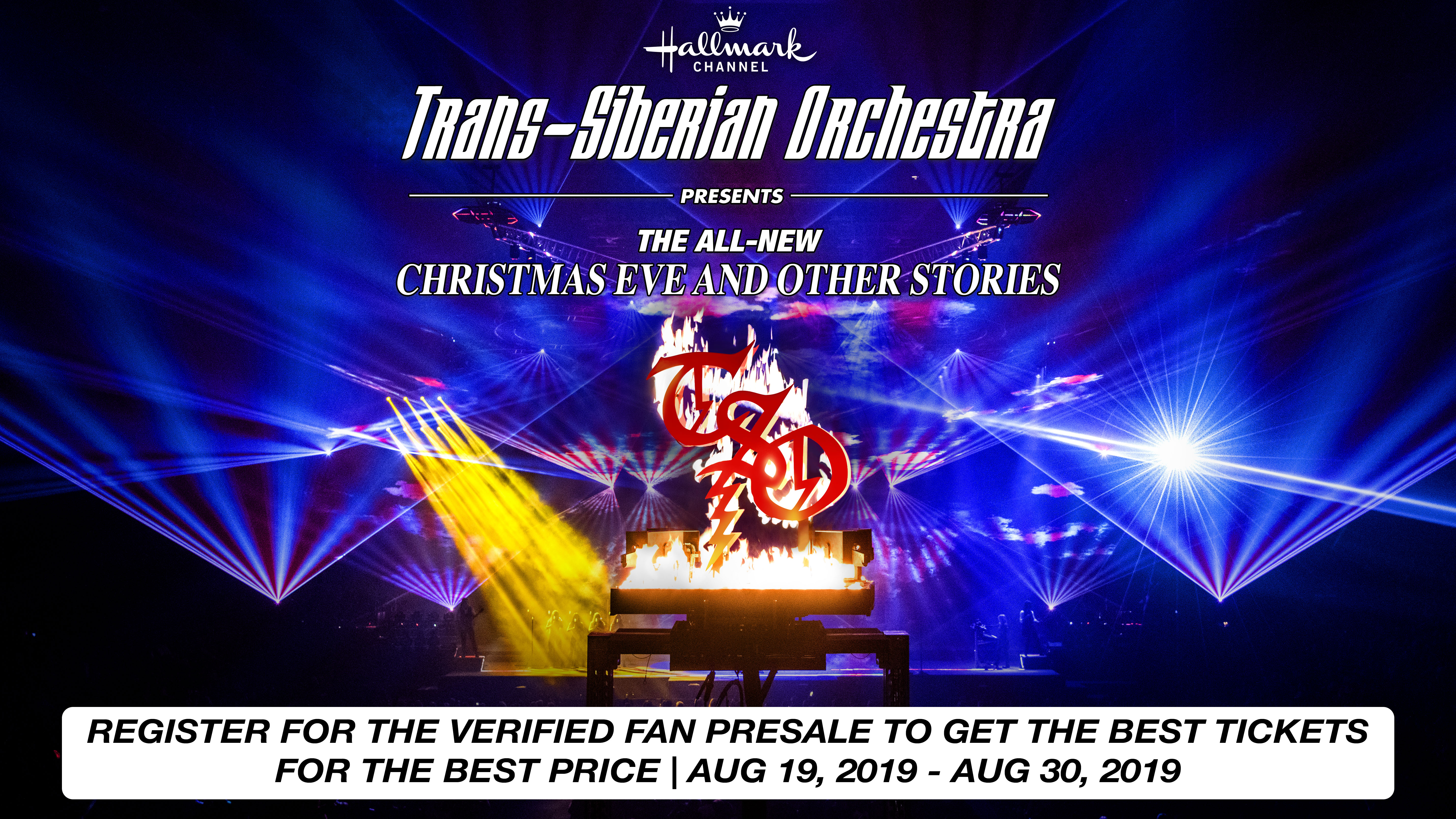 New York City, New York, U.S.A. based symphonic metal warriors TRANS SIBERIAN ORCHESTRA have announced WINTER 2019 NORTH AMERICAN TOUR DATES WINTER 2019 NORTH AMERICAN TOUR DATES.
TRANS SIBERIAN ORCHESTRA unleashed "LETTERS FROM THE LABYRINTH", 11/13/2015 via LAVA.
FROM TRANS SIBERIAN ORCHESTRA:
Trans-Siberian Orchestra
is hitting the road in 2019 with an ALL NEW show, 'Christmas Eve & Other Stories!'
#
TSO
is heading throughout the US (& Canada!) & we want to ensure that our fans have the best tickets at the best prices.
Register now for
Ticketmaster
Verified Fan Presales to be the first in line.
Fan Club Verified Pre-Sale: begins 9/4

General Verified Pre-Sale: begins 9/9
https://www.trans-siberian.com/tour















Nov

13

2019

Green Bay, WI
Resch Center
4:00 PM
9/4 @ 10 AM Local
9/13 @ 10 AM Local



Nov

13

2019

Green Bay, WI
Resch Center
8:00 PM
9/4 @ 10 AM Local
9/13 @ 10 AM Local



Nov

13

2019

Council Bluffs, IA
Mid-America Center
7:30 PM
9/4 @ 10 AM Local
Coming Soon



Nov

14

2019

Sioux Falls, SD
Denny Sanford PREMIER Center
7:30 PM
9/4 @ 10 AM Local
Coming Soon



Nov

15

2019

Youngstown, OH
Covelli Center
3:30 PM
9/4 @ 10 AM Local
9/13 @ 10 AM Local



Nov

15

2019

Youngstown, OH
Covelli Center
7:30 PM
9/4 @ 10 AM Local
9/13 @ 10 AM Local



Nov

16

2019

Allentown, PA
PPL Center
3:30 PM
9/4 @ 10 AM Local
Coming Soon



Nov

16

2019

Allentown, PA
PPL Center
8:00 PM
9/4 @ 10 AM Local
Coming Soon



Nov

16

2019

Denver, CO
Pepsi Center
3:00 PM
9/4 @ 10 AM Local
Coming Soon



Nov

16

2019

Denver, CO
Pepsi Center
8:00 PM
9/4 @ 10 AM Local
Coming Soon



Nov

17

2019

Worcester, MA
DCU Center
3:00 PM
9/4 @ 10 AM Local
9/13 @ 10 AM Local



Nov

17

2019

Worcester, MA
DCU Center
8:00 PM
9/4 @ 10 AM Local
9/13 @ 10 AM Local



Nov

17

2019

Colorado Springs, CO
World Arena
3:00 PM
9/4 @ 10 AM Local
Coming Soon



Nov

17

2019

Colorado Springs, CO
World Arena
7:30 PM
9/4 @ 10 AM Local
Coming Soon



Nov

20

2019

Raleigh, NC
PNC Arena
7:30 PM
9/4 @ 10 AM Local
Coming Soon



Nov

20

2019

Salt Lake City, UT
Vivint Smart Home Arena
3:30 PM
9/4 @ 10 AM Local
9/13 @ 10 AM Local



Nov

20

2019

Salt Lake City, UT
Vivint Smart Home Arena
7:30 PM
9/4 @ 10 AM Local
9/13 @ 10 AM Local



Nov

21

2019

Baltimore, MD
Royal Farms Arena
7:30 PM
9/4 @ 10 AM Local
Coming Soon



Nov

21

2019

Boise, ID
Taco Bell Arena
7:30 PM
9/4 @ 10 AM Local
Coming Soon



Nov

22

2019

Wilkes Barre, PA
Mohegan Sun Arena at Casey Plaza
3:30 PM
9/4 @ 10 AM Local
Coming Soon



Nov

22

2019

Wilkes Barre, PA
Mohegan Sun Arena at Casey Plaza
8:00 PM
9/4 @ 10 AM Local
Coming Soon



Nov

22

2019

Spokane, WA
Spokane Arena
8:00 PM
9/4 @ 10 AM Local
Coming Soon



Nov

23

2019

Manchester, NH
SNHU Arena
3:30 PM
9/4 @ 10 AM Local
9/13 @ 10 AM Local



Nov

23

2019

Manchester, NH
SNHU Arena
8:00 PM
9/4 @ 10 AM Local
9/13 @ 10 AM Local



Nov

23

2019

Portland, OR
The Moda Center
3:30 PM
9/4 @ 10 AM Local
Coming Soon



Nov

23

2019

Portland, OR
The Moda Center
8:00 PM
9/4 @ 10 AM Local
Coming Soon



Nov

24

2019

Hartford, CT
XL Center
3:00 PM
9/4 @ 10 AM Local
9/13 @ 10 AM Local



Nov

24

2019

Hartford, CT
XL Center
7:30 PM
9/4 @ 10 AM Local
9/13 @ 10 AM Local



Nov

24

2019

Tacoma, WA
Tacoma Dome
3:30 PM
9/4 @ 10 AM Local
Coming Soon



Nov

26

2019

San Jose, CA
SAP Center at San Jose
8:00 PM
9/4 @ 10 AM Local
Coming Soon



Nov

27

2019

Toledo, OH
Huntington Center
4:00 PM
9/4 @ 10 AM Local
9/13 @ 10 AM Local



Nov

27

2019

Toledo, OH
Huntington Center
8:00 PM
9/4 @ 10 AM Local
9/13 @ 10 AM Local



Nov

29

2019

Cincinnati, OH
US Bank Arena
4:00 PM
9/4 @ 10 AM Local
Coming Soon



Nov

29

2019

Cincinnati, OH
US Bank Arena
8:00 PM
9/4 @ 10 AM Local
Coming Soon



Nov

29

2019

Sacramento, CA
Golden 1 Center
3:00 PM
9/4 @ 10 AM Local
Coming Soon



Nov

29

2019

Sacramento, CA
Golden 1 Center
7:30 PM
9/4 @ 10 AM Local
Coming Soon



Nov

30

2019

Dayton, OH
Nutter Center
3:00 PM
9/4 @ 10 AM Local
Coming Soon



Nov

30

2019

Dayton, OH
Nutter Center
8:00 PM
9/4 @ 10 AM Local
Coming Soon



Nov

30

2019

Ontario, CA
Toyota Arena
3:30 PM
9/4 @ 10 AM Local
Coming Soon



Nov

30

2019

Ontario, CA
Toyota Arena
7:30 PM
9/4 @ 10 AM Local
Coming Soon



Dec

1

2019

Grand Rapids, MI
Van Andel Arena
3:00 PM
9/5 @ 10 AM Local
9/13 @ 10 AM Local



Dec

1

2019

Grand Rapids, MI
Van Andel Arena
7:30 PM
9/5 @ 10 AM Local
9/13 @ 10 AM Local



Dec

1

2019

Phoenix, AZ
Talking Stick Resort Arena
3:00 PM
9/5 @ 10 AM Local
Coming Soon



Dec

1

2019

Phoenix, AZ
Talking Stick Resort Arena
7:30 PM
9/5 @ 10 AM Local
Coming Soon



Dec

4

2019

Nashville, TN
Bridgestone Arena
7:30 PM
9/5 @ 10 AM Local
Coming Soon



Dec

4

2019

El Paso, TX
Don Haskins Center
3:00 PM
9/5 @ 10 AM Local
Coming Soon



Dec

4

2019

El Paso, TX
Don Haskins Center
7:30 PM
9/5 @ 10 AM Local
Coming Soon



Dec

5

2019

Lexington, KY
Rupp Arena
7:30 PM
9/5 @ 10 AM Local
Coming Soon



Dec

5

2019

Lubbock, TX
United Supermarkets Arena
7:00 PM
9/5 @ 10 AM Local
Coming Soon



Dec

6

2019

Greenville, SC
Bon Secours Wellness Arena
4:00 PM
9/5 @ 10 AM Local
Coming Soon



Dec

6

2019

Greenville, SC
Bon Secours Wellness Arena
8:00 PM
9/5 @ 10 AM Local
Coming Soon



Dec

6

2019

Wichita, KS
Intrust Bank Arena
8:00 PM
9/5 @ 10 AM Local
9/13 @ 10 AM Local



Dec

7

2019

Charlotte, NC
Spectrum Center
3:00 PM
9/5 @ 10 AM Local
Coming Soon



Dec

7

2019

Charlotte, NC
Spectrum Center
8:00 PM
9/5 @ 10 AM Local
Coming Soon



Dec

7

2019

Kansas City, MO
Sprint Center
3:00 PM
9/5 @ 10 AM Local
Coming Soon



Dec

7

2019

Kansas City, MO
Sprint Center
8:00 PM
9/5 @ 10 AM Local
Coming Soon



Dec

8

2019

Duluth, GA
Infinite Energy Center
3:00 PM
9/5 @ 10 AM Local
Coming Soon



Dec

8

2019

Duluth, GA
Infinite Energy Center
7:30 PM
9/5 @ 10 AM Local
Coming Soon



Dec

8

2019

Oklahoma City, OK
Chesapeake Energy Arena
3:00 PM
9/5 @ 10 AM Local
9/13 @ 10 AM Local



Dec

8

2019

Oklahoma City, OK
Chesapeake Energy Arena
7:30 PM
9/5 @ 10 AM Local
9/13 @ 10 AM Local



Dec

11

2019

Greensboro, NC
Greensboro Coliseum
7:30 PM
9/5 @ 10 AM Local
Coming Soon



Dec

11

2019

Birmingham, AL
Legacy Arena at the BJCC
7:30 PM
9/5 @ 10 AM Local
Coming Soon



Dec

12

2019

Charlottesville, VA
John Paul Jones Arena
7:30 PM
9/5 @ 10 AM Local
9/13 @ 10 AM Local



Dec

12

2019

Jacksonville, FL
Jacksonville Veterans Memorial Arena
7:30 PM
9/5 @ 10 AM Local
Coming Soon



Dec

13

2019

Hershey, PA
Giant Center
4:00 PM
9/5 @ 10 AM Local
9/13 @ 10 AM Local



Dec

13

2019

Hershey, PA
Giant Center
8:00 PM
9/5 @ 10 AM Local
9/13 @ 10 AM Local



Dec

13

2019

Sunrise, FL
BB&T Center
8:00 PM
9/5 @ 10 AM Local
Coming Soon



Dec

14

2019

Buffalo, NY
KeyBank Center
3:30 PM
9/5 @ 10 AM Local
Coming Soon



Dec

14

2019

Buffalo, NY
KeyBank Center
8:00 PM
9/5 @ 10 AM Local
Coming Soon



Dec

14

2019

Orlando, FL
Amway Center
3:00 PM
9/5 @ 10 AM Local
Coming Soon



Dec

14

2019

Orlando, FL
Amway Center
8:00 PM
9/5 @ 10 AM Local
Coming Soon



Dec

15

2019

Philadelphia, PA
Wells Fargo Center
3:30 PM
9/5 @ 10 AM Local
9/13 @ 10 AM Local



Dec

15

2019

Philadelphia, PA
Wells Fargo Center
8:00 PM
9/5 @ 10 AM Local
9/13 @ 10 AM Local



Dec

15

2019

Tampa, FL
Amalie Arena
3:00 PM
9/5 @ 10 AM Local
Coming Soon



Dec

15

2019

Tampa, FL
Amalie Arena
7:30 PM
9/5 @ 10 AM Local
Coming Soon



Dec

18

2019

Rochester, NY
Blue Cross Arena
7:30 PM
9/5 @ 10 AM Local
Coming Soon



Dec

18

2019

New Orleans, LA
Smoothie King Center
7:30 PM
9/5 @ 10 AM Local
Coming Soon



Dec

19

2019

Albany, NY
Times Union Center
7:30 PM
9/5 @ 10 AM Local
Coming Soon



Dec

19

2019

Memphis, TN
FedEx Forum
7:30 PM
9/5 @ 10 AM Local
Coming Soon



Dec

20

2019

Uniondale, NY
Nassau Veterans Memorial Coliseum
8:00 PM
9/5 @ 10 AM Local
Coming Soon



Dec

20

2019

Tulsa, OK
BOK Center
8:00 PM
9/5 @ 10 AM Local
9/13 @ 10 AM Local



Dec

21

2019

Newark, NJ
Prudential Center
3:00 PM
9/5 @ 10 AM Local
Coming Soon



Dec

21

2019

Newark, NJ
Prudential Center
8:00 PM
9/5 @ 10 AM Local
Coming Soon



Dec

21

2019

Dallas, TX
American Airlines Center
3:00 PM
9/5 @ 10 AM Local
9/13 @ 10 AM Local



Dec

21

2019

Dallas, TX
American Airlines Center
8:00 PM
9/5 @ 10 AM Local
9/13 @ 10 AM Local



Dec

22

2019

Pittsburgh, PA
PPG Paints Arena
3:30 PM
9/5 @ 10 AM Local
9/13 @ 10 AM Local



Dec

22

2019

Pittsburgh, PA
PPG Paints Arena
8:00 PM
9/5 @ 10 AM Local
9/13 @ 10 AM Local



Dec

22

2019

Houston, TX
Toyota Center
3:00 PM
9/5 @ 10 AM Local
Coming Soon



Dec

22

2019

Houston, TX
Toyota Center
8:00 PM
9/5 @ 10 AM Local
Coming Soon



Dec

23

2019

Washington, DC
Capital One Arena
3:00 PM
9/5 @ 10 AM Local
Coming Soon



Dec

23

2019

Washington, DC
Capital One Arena
7:30 PM
9/5 @ 10 AM Local
Coming Soon



Dec

23

2019

San Antonio, TX
AT&T Center
3:30 PM
9/5 @ 10 AM Local
Coming Soon



Dec

23

2019

San Antonio, TX
AT&T Center
8:00 PM
9/5 @ 10 AM Local
Coming Soon



Dec

26

2019

Columbus, OH
Nationwide Arena
3:00 PM
9/5 @ 10 AM Local
9/13 @ 10 AM Local



Dec

26

2019

Columbus, OH
Nationwide Arena
8:00 PM
9/5 @ 10 AM Local
9/13 @ 10 AM Local



Dec

26

2019

St. Louis, MO
Enterprise Center
3:00 PM
9/5 @ 10 AM Local
9/13 @ 10 AM Local



Dec

26

2019

St. Louis, MO
Enterprise Center
7:30 PM
9/5 @ 10 AM Local
9/13 @ 10 AM Local



Dec

27

2019

Cleveland, OH
Rocket Mortgage FieldHouse
3:00 PM
9/5 @ 10 AM Local
9/13 @ 10 AM Local



Dec

27

2019

Cleveland, OH
Rocket Mortgage FieldHouse
8:00 PM
9/5 @ 10 AM Local
9/13 @ 10 AM Local



Dec

27

2019

Milwaukee, WI
Fiserv Forum
3:30 PM
9/5 @ 10 AM Local
Coming Soon



Dec

27

2019

Milwaukee, WI
Fiserv Forum
8:00 PM
9/5 @ 10 AM Local
Coming Soon



Dec

28

2019

Detroit, MI
Little Caesars Arena
3:00 PM
9/5 @ 10 AM Local
9/13 @ 10 AM Local



Dec

28

2019

Detroit, MI
Little Caesars Arena
8:00 PM
9/5 @ 10 AM Local
9/13 @ 10 AM Local



Dec

28

2019

St. Paul, MN
Xcel Energy Center
3:00 PM
9/5 @ 10 AM Local
Coming Soon



Dec

28

2019

St. Paul, MN
Xcel Energy Center
8:00 PM
9/5 @ 10 AM Local
Coming Soon



Dec

30

2019

Toronto, ON CA
Scotiabank Arena
3:00 PM
9/5 @ 10 AM Local
Coming Soon



Dec

30

2019

Toronto, ON CA
Scotiabank Arena
8:00 PM
9/5 @ 10 AM Local
Coming Soon



Dec

30

2019

Chicago, IL
Allstate Arena
2:30 PM
9/5 @ 10 AM Local
Coming Soon



Dec

30

2019

Thanks-Stay Metal, Stay Brutal-\m/ -l-

Chicago, IL
Allstate Arena
8:00 PM
9/5 @ 10 AM Local
Coming Soon